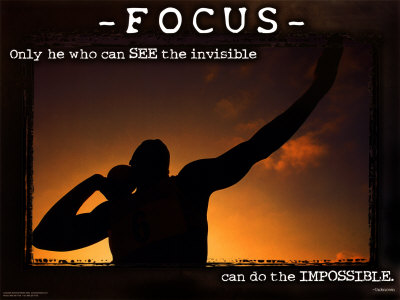 One glance at the average person and you'll discover that there are many unfulfilled dreams, unfulfilled plans, unfulfilled intentions. Is it any wonder? Our lives tend to be scattered. We get excited about one trend only until the next comes along. We easily fall prey to the latest craze or quick fix. We find ourselves starting one project and then going to another. We make promises to ourselves about what we're going to do to get back on track and then those promises are quickly forgotten in the midst of the crunch of our daily agenda.
So how do we get on track? How do we hit the targets of life? How do we experience life with the fulfillment of purpose? By staying focused, and more importantly, staying focused on what matters. But then the question immediately surfaces, "How do I know what matters?"
The answer, my friends, lies in a very simple, yet profound, statement. You know what matters when your focus is not on your life but HIS life!! Folks, the only one who can bring order and clarity to your life is Jesus Christ! The ironic thing is that a person goes through the exact opposite to get there. You see, switching your focus from your life to the life of Christ is no easy task. It involves more than mere mental assent – it requires complete surrender. If your focus is divided between God and yourself or is upon your life only you will never fulfill what you were meant to do and you will always feel like there is something left undone.
It's no coincidence that Paul wrote in Ephesians,
Ephesians 2:10 (NIV)
10 For we are God's workmanship, created in Christ Jesus to do good works, which God prepared in advance for us to do.
The question is, are you more concerned about what you accomplish in your life than what God wants to accomplish in your life? And this brings us to three steps we can take that switch the focus from our life to His life giving us the ability to know what matters… realize that
1. God has a plan, and YOU are in it!
Romans 8:28 (NIV)
28 And we know that in all things God works for the good of those who love him, who have been called according to his purpose.
2 Timothy 1:9 (NIV)
9 who has saved us and called us to a holy life–not because of anything we have done but because of his own purpose and grace. This grace was given us in Christ Jesus before the beginning of time,
If you are in the habit of marking your Bible I'd like you to circle two words in these two passages. "Called" and "purpose". The first step in focusing on the life of Christ is to realize that God has a PLAN and YOU are in it. The catch is, God's plan for your life will only unfold completely when you want to be part of it.You see at the heart of God's plan for you and me is His plan for the whole world. God's plan is to save people.
2 Peter 3:9 (NIV)
9 The Lord is not slow in keeping his promise, as some understand slowness. He is patient with you, not wanting anyone to perish, but everyone to come to repentance.
Even more, it is God's desire to have an intimate relationship with people. That is the heart of God's plan. That is why there is so much focus in the Bible on the redeeming work of Jesus Christ – which makes it possible for this plan to unfold in the lives of everyone.
If THEY CHOOSE.
This is where our part of God's plan comes into play. For those who don't know Jesus Christ as Lord and Saviour, God has given you the freedom to make the choice of life or death. Life with Christ, or death without Him – plain or simple. You see, God's plan was beginning to unfold in your life from the moment you were conceived – but it reaches a halt when you are confronted with the reality of sin in your life and your need for God. Then it's up to you to make the choice to follow Him or making your own decision. Hear me – God's plan for your life will never be completed until you choose to follow Him. NO one can make the decision but you.
But what about those who have given their lives to Christ – who have said yes to a relationship with God?
2 Corinthians 5:20 (NIV)
20 We are therefore Christ's ambassadors, as though God were making his appeal through us. We implore you on Christ's behalf: Be reconciled to God.
If God's goal is the salvation of the world, then our goal should be the same. The details will differ from person to person, but the big picture is identical for all of us. We're Christ's ambassadors – we represent Him to the world around us – and God speaks through our lives to those around us!
If you are not sure about your future as a Christian, one thing is certain: God wants YOU to tell others about His love and desire to be reconciled with them.
But exactly how are you to contribute? What is your specific assignment? The answer is found in the next step.
2. recognize that He EQUIPS for what He PLANS!
Ephesians 1:18-19 (NIV)
18 I pray also that the eyes of your heart may be enlightened in order that you may know the hope to which he has called you, the riches of his glorious inheritance in the saints, 19 and his incomparably great power for us who believe. That power is like the working of his mighty strength,
The truth of the matter is that God equips us for our part in HIS plan. But the key is, His plan can only be carried out by His strength, His power, His wisdom. That is why it is not a matter of what WE do, but what HE does through US!
"So how is that supposed to help me know what to do?" You may be asking! Simple, before God can do anything through you, you have to be willing to submit ALL your plans, ALL your hopes, ALL your life to HIM. Then, once you've done that pay attention to the desires you have. God's desires will begin surfacing in your life and it is at the intersection of those desires and God's plan that you find your assignment.
For some, you'll find yourself with the desire to feed the poor. Others of you may be feeling the desire to work with children. Others may sense the desire for singing, or holding the hands of the sick or counseling the confused or helping people understand the things of God. Some of you, may have the desire to host people at your home – to spend time with people. Whatever the desire is that surfaces, each of us has been made in a unique way and as His desires surface in your life you'll begin to see how HE has EQUIPPED you for what HE PLANS!
Psalm 139:13-16 (NIV)
13 For you created my inmost being; you knit me together in my mother's womb. 14 I praise you because I am fearfully and wonderfully made; your works are wonderful, I know that full well. 15 My frame was not hidden from you when I was made in the secret place. When I was woven together in the depths of the earth, 16 your eyes saw my unformed body. All the days ordained for me were written in your book before one of them came to be.
You are a custom design; you are tailor-made. God prescribed your birth. Regardless of the circumstances that surrounded your arrival, you are not an accident. God planned you before you were born. (Just Like Jesus, by Max Lucado, p. 96)
Now this is where you start to get focus in your life. But it is also where you can start focusing even more. Ask yourself, "What are the desires that seem to override everything else?" Evaluate them. Determine – if I was to act on these desires would it contribute to God's plan or take away from it? As you weed out your desires you are starting to focus on the things that God wants to do through you and find your part in HIS plan.
Remember, not only can you not do anything but you also can't do everything. That is why so many times in the Word of God is the church referred to as a body. FOCUS on God's DESIRES in your life and His EQUIPPING for what needs to be done!
A lighthouse keeper who worked on a rocky stretch of coastline received oil once a month to keep his light burning. Not begin far from a village, he had frequent guests. One night a woman needed oil to keep her family warm. Another night a father needed oil for his lamp. Then another needed oil to lubricate a wheel. All the requests seemed legitimate, so the lighthouse keeper tried to meet them all. Toward the end of the month, however, he ran out of oil, and his lighthouse went dark, causing several ships to crash on the coastline. The man was reproved by his superiors, "You were given the oil for one reason," they said, "to keep the light burning." (quoted in Just Like Jesus, by Max Lucado, p. 97)Don't worry about everything – but focus on what God wants to do through you!
3. GET OUT OF THE WAY!!
The third step is probably the most important one of all. It is here that our focus either becomes razor sharp or rock blunt. It is here that what is begun is carried on to completion or is halted in its tracks. It's another very simple step yet, I'm sure to many of you it will seem most illogical – GET OUT OF THE WAY!!Yes, you heard me right! Get out of the way! I'm sure most of you were thinking, "Okay, I think I know where this is leading – I need to realize that God has a Plan and I'm in it, I need to recognize that God has EQUIPPED me for His plan – and now the Pastor is going to say that I need to REALLY start DOING what I'm supposed to do!" NO!!! You don't believe me? Let's turn to a passage that is maybe a little bit familiar to some of you,
Luke 9:23-24 (NIV)
23 Then he said to them all: "If anyone would come after me, he must deny himself and take up his cross daily and follow me. 24 For whoever wants to save his life will lose it, but whoever loses his life for me will save it.
Again, highlight a couple of words with me. DENY HIMSELF and TAKE UP HIS CROSS. Folks, Christ made it clear that following Him involves putting our "self" – that is the part of us that always places self-preservation first, that always cries out me, me, me – on the cross. Deny it, leave it, say good-bye to it. "Getting out of the way" involves getting your "self" out of the way. Instead of saying, "What can I do for God" you instead say, "What does Jesus want to do through me?" Instead of saying, "How can I live for God", you start saying "How does Christ want to His life through me?" You see the focus now shifts from our "self" to Christ. It shifts from wanting to save our life to wanting to have His life. It shifts from what WE do to what HE does.
Please don't misunderstand me – this is not about saying good bye to your personality – or your uniqueness as an individual person. It is about saying as Paul said,
Galatians 2:20 (NIV)
20 I have been crucified with Christ and I no longer live, but Christ lives in me. The life I live in the body, I live by faith in the Son of God, who loved me and gave himself for me.
It is not about what we do for Jesus that is important – it is about who we are IN him that is important! Because out of WHO WE ARE Christ is able to flow into what HE wants to do in our lives!!
You see when you understand the principle of getting out of the way it shifts the focus off what you are doing and onto what Christ is doing. You start to realize that it is Christ who is working through your life and you can start asking yourself am I getting in the way or am I letting Christ do what He wants to do through me? Every decision, every thought, every action take captive and say is this Jesus or is this me? As you do this, you'll find that it becomes easier to recognize the things God is doing and wants to do through you. GET OUT OF THE WAY!